Ingredients (serves 6)
60g butter, chopped
1 large leek, white part only, thinly sliced
1/4 cup (35g) plain flour
1 1/2 cups (375ml) milk
2 tbs lemon juice
600g ocean trout, skinned, cut into 4cm cubes
500g thick white boneless fish fillets, cut into 3cm cubes
700g medium green prawns, peeled, deveined
3 hard-boiled eggs, coarsely chopped
1/2 cup flat-leaf parsley leaves, coarsely chopped
6 sheets puff pastry
Method
Melt butter in a saucepan over low-medium heat. Add leek and cook, stirring occasionally, for 8 minutes or until very soft. Add flour and stir until well combined and bubbling. Remove pan from heat and slowly add milk, stirring continuously. Return pan to heat and stir continuously until sauce boils and thickens. Remove from heat and stir in lemon juice. Cool.
Preheat oven to 200°C. Add seafood, egg and parsley to sauce then season to taste with salt and white pepper. Spoon 1 1/2 cups seafood mixture into each of 6, 2-cup-capacity ovenproof dishes.
Using a small plate as a guide, cut a 16cm round from each sheet of pastry. Place a pastry round over each bowl then press edges to sides of dishes to secure. Brush with beaten egg then place dishes on 2 oven trays. Bake pies for 20 minutes, swapping trays halfway through cooking, or until pastry is golden. Serve.

Seafood Burger
Ingredients (serves 4)
1/2 cup plain flour
2 eggs
2 1/2 cups fresh white breadcrumbs
1 tablespoon lemon pepper (see note)
700g whiting fillets (see note), bones and skin removed
2 tsp olive oil
40g butter, chopped
4 hot dog buns, split, toasted
80g baby rocket
Half a Cup of Tartare Sauce
Method
Preheat oven to 150°C. Place flour on a plate. Lightly beat eggs in a shallow bowl. Combine breadcrumbs and lemon pepper on a plate.
Coat fish, 1 fillet at a time, in flour. Dip into egg, followed by breadcrumb mixture, gently pressing crumbs on with your fingertips. Transfer to a large plate.
Heat oil and butter in a large, non-stick frying pan over medium heat. Cook fish, in batches, for 2 minutes each side or until cooked through. Transfer to a baking tray. Keep warm.
Top hot dog bun bases with rocket, fish fillets, tartare sauce and bun tops. Serve with chips and lemon wedges.
Notes:
You can find lemon pepper in the spice aisle of your supermarket.
You could replace the whiting with any firm white fish, such as ling.
Oven-baked chips and lemon wedges, to serve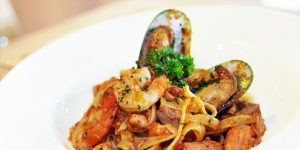 Ingredients
Scales Marinara mix
Tomato pasta sauce
Fresh Ginger
Garlic
Sweet Chilli Sauce
Fish Sauce
Fettuccini Pasta
Grated Parmesan Cheese
Method
Boil a saucepan of water and add Fettuccini pasta (cook for 15 mins or until pasta is soft and cooked through)
Cook ginger and garlic in a saucepan on a low heat until golden brown
Add Scales Marinara mix into the pan on medium heat 10-15mins or until cooked through
Add Fish sauce, sweet chilli sauce and tomato pasta sauce and simmer on a low heat.
Place Fettuccini in a bowl and pour marinara pasta sauce mixture over
Sprinkle with parmesan cheese.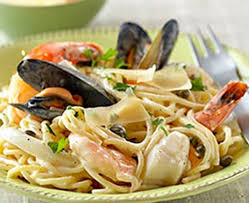 For the sauce-
1/2C raw cashews, blend until fine
1 tsp salt
1 tablespoon olive oil
1 tsp lemon juice
3 tablespoons savoury yeast flakes
2-3 cloves of garlic, crushed
1 and a1/2C water from cooking the pasta ( helps the sauce thicken)
Blend all together until silky smooth.
For the pasta- 1 packet gluten free fettucine , cooked and drained, reserving liquid for the sauce.
Pan cook Mariana mix in olive oil then add cooked pasta, sauce and cook on low heat until thickened. Serve garnished with fresh chopped parsley, chili flakes , spring onion finely chopped and wedges of lemon!
Dairy free and gluten free!!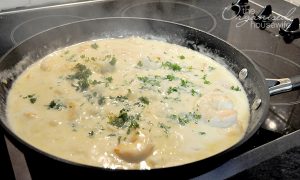 Ingredients
600ml Thickened cream
Teaspoon of Garlic or according to taste
Dash or more of Sav Blanc
2 tablespoons Butter with Olive oil so butter doesn't burn
Pinch or more of Salt and Pepper
Shallots
Scales Green Prawns
Method
Sauce: 
Add butter, garlic and olive oil, (so butter doesnt burn) to saucepan
Combine thickened cream, shallots, salt & pepper and wine to saucepan and let simmer on a low heat
Start cooking prawns
Prawns: 
Fry prawns on pan or BBQ for 5-8 mins or until just cooked
Add prawns to the sauce mixture and continue simmering on a low heat
Dress with a slice of lemon and parsley to serve